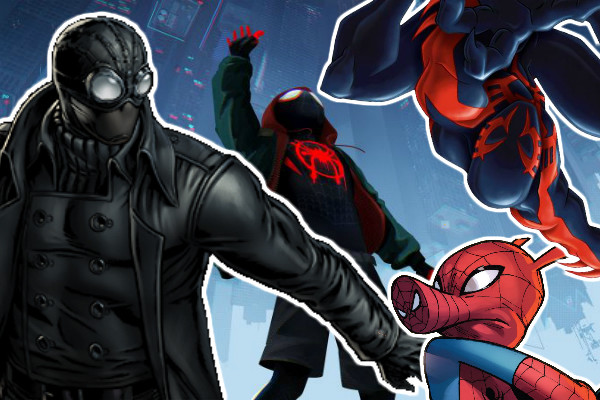 With the newest trailer for Spider-Man: Into The Spider-Verse dropping, fans of the webbed wonder are abuzz with the possibilities that it presents. The comic of the same name was an excellent display of intentional juggling that exposed fans to all kinds of Spider-Men from a host of different universes along with some entirely new concepts.
While there's no indication that Spider-Man: Into The Spider-Verse will follow the same plot, as it appears to be an original story contained within itself, the door to the Spider-Verse is now very much wide open.
We know for certain that Miles Morales (Shameik Moore), Peter Parker (Jake Johnson), and Gwen Stacy (Hailee Steinfeld) are going to be present as they feature heavily in the trailers. Miles is positioned as the main character and this could not be a better decision for the format, because he is a great character for an animated movie due to his crossover appeal with long-time fans and young fans alike, but there's clearly room for more.
So, with the name Spider-Verse being linked to so much crossover potential, who else could appear in Spider-Man: Into The Spider-Verse?
10. Spider-Monkey
Spider-Monkey was an adorable addition to the Spider-Verse story in the comics, with a brash, egotistical person that went against his comical appearance. Typically he'd be in the background of the various fights and skirmishes, clawing at people's eyes and generally being as ferocious as small monkeys are known to be.
He hails from Earth 8101 of the Marvel Apes universe where everyone is some form of primate (Venom is a huge gorilla and looks amazing there, by the way). The downside to his universe is that the way they dole out justice is permanent, meaning Peter and the Ape-Vengers would beat villains to death who refused to reform, such as their universe's Dr Octopus, named Dr Ooktavius. It's truly bananas…
Unfortunately for our not-so-friendly neighbourhood Spider-Monkey, he is consumed by Jennix, one of the energy vampires known as The Inheritors, the main antagonists in the Spider-Verse storyline.